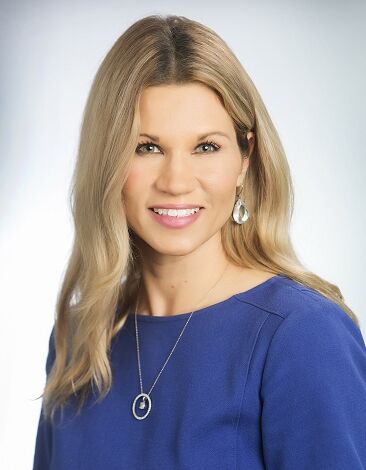 Add Testimonial
Kim Sweeney is part of the Jason Glast Group at Phyllis Browning Company. She grew up in San Antonio and has a strong knowledge of communities and schools within the area. She loves using her passion for real estate and interior design to assist each of her sellers in home staging and helping buyers envision and realize the true potential of homes on the [...]
Add Testimonial
Kim Sweeney is part of the Jason Glast Group at Phyllis Browning Company. She grew up in San Antonio and has a strong knowledge of communities and schools within the area. She loves using her passion for real estate and interior design to assist each of her sellers in home staging and helping buyers envision and realize the true potential of homes on the market.
She is a graduate of the McCombs School of Business at The University of Texas at Austin. Prior to real estate, Kim worked in Houston in the Oil & Gas Industry. She worked in various analytical roles, including pricing and marketing analytics. Kim utilizes this analytical mindset to benefit her customers. Her top priorities are finding the best investment for her clients, providing exceptional customer service, and always exceeding her client's expectations. -Sep 7 2023 11:00AM
Office Location
4372 N Loop 1604 West Ste 102
San Antonio, TX 78249
Specifications
Languages:
Specialties: Graduate REALTOR Institute, REALTOR®
Service Area: San Antonio, Texas
Kim's Testimonials
Kim Sweeney is the most invested Real Estate Agent I have ever worked with. Kim took the time to get to know my family and understand what my families needs were. She was eager to make time available around my schedule. She has amazing ideas for space utilization and helped me visualize what could be in each home we visited. She is very easy to talk with and truly listens to the concerns of her clients. In fact, Kim provides such attention to her clients that she makes you feel like you [...]
Joanne W.
We recently sold a house with Kim Sweeney and she far exceeded our expectations! She delivered on every promise and is especially skilled at pricing, helping us sell at full asking price within the first week on the market. Perhaps most noteworthy is her personable approach and emphasis on your family's needs and interests as her top priority. Her attention to detail, availability at every showing, responsiveness to all questions, and excellent results make her the very best at what she does [...]
The Escobar Family
As first time home-buyers, Kim was there to help us through every step of the process. She was extremely informative and always available to answer our questions. She's a great listener who really took our requests to heart and was always willing to meet us on short notice. As new buyers in a difficult market, we felt confident that we'd find a home with Kim in our corner. We were able to purchase our dream-home this year in one of the craziest markets San Antonio has seen. When submitting [...]
-Wes & Elise
Our family had to relocate across the country for my husband's work. While we were excitedly anticipating the move, we also had some fears over trying to enter the real estate market as first time home buyers at a time when supply was low and demand was high. Fortunately for us, we were able to work with Kim Sweeney. Kim was exceptionally knowledgeable and responsive any time we had a question, and we felt a sense of ease right away once we started working with her. Even more impressive was [...]
O'Hara Family
Our home buying experience with the Jason Glast Group was unparalleled. The level of expertise, knowledge and networking is what landed us our dream home. Kim Sweeney was our agent within the group and we clicked immediately. She understood our style, location and "must-haves" for our growing family. She listened, absorbed and took off running. She was able to secure us with an off market property in the exact location we wanted with all of our boxes checked. She helped us visualize how we [...]
Caitlin & Jordan Barberio
Kim Sweeney goes above and beyond her job description as a realtor, lends her impeccable designer's eye to the staging process and even helped us paint our home prior to taking listing photos. I cannot praise her enough! She did ample market research prior to our first meeting and convinced my husband and I to list for $15K more than what we'd originally considered listing it for. With her help de-cluttering, staging (she brought over artwork to display), and her vast network of connections, [...]
Ann Stakes
We are so thankful for our amazing Realtor Kim Sweeney. Kim not only went above and beyond in helping us stage our house in preparation to sell, but she delivered. Our home was on the market for less than a week before we had an offer on it and sold for full list price! This was a direct result of Kim using innovative marketing tactics to get our house sold. Kim didn't stop there, she also helped find our family the perfect home. She is an excellent negotiator and went the extra mile in [...]
T Stakes
My husband and I were referred to Kim Sweeney for our cross country move via another realtor that is no longer active. In addition to moving halfway across the country, we had to do it during the pandemic. We never thought that we would be making the second largest purchase of our lives over the internet, but that is exactly what happened. Kim, with her extensive knowledge of both Boerne and San Antonio, was able to identify neighborhoods and areas that she thought would be a great fit for us. [...]
Dawn & Chris Zeig
My wife and I relocated to the area for work and spent 8 months renting north of 1604 to research the ideal location that would check all the boxes for us. We attended a number of open houses and met many fine realtors along the process. In the end we signed with Kim Sweeney and couldn't be happier with the results. Kim worked tirelessly throughout the challenging Covid situation and found us a house in the key neighborhood we wanted. She was always flexible and prompt. She managed the entire [...]
The Cornelisen's
Kim Sweeney with the Jason Glast group at Phyllis Browning is phenomenal. From the first time we met her, she was polite, focused, respectful, and result-driven. She went out of her way to get our house ready for showing, literally getting down on her hands and knees to declutter book shelves, change sheets, and bring in fresh flowers. Her taste is impeccable and her vision is organized. She has dozens of contacts for home renovation at her fingertips. She would even come in to receive and [...]
Dr. Ahmad
Contact
Hi there! How can we help you?
Contact us using the form below or give us a call.
Hi there! How can we help you?
Contact us using the form below or give us a call.