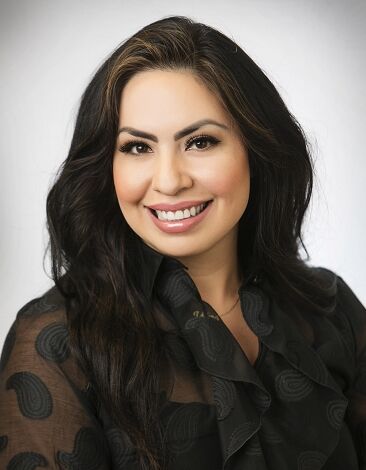 Add Testimonial
Velma Perales grew up in San Antonio and received her Bachelor's degree from the University of the Incarnate Word with an emphasis in business marketing and construction management. Before becoming a licensed REALTOR' she worked in sales, education and [...]
Add Testimonial
Velma Perales grew up in San Antonio and received her Bachelor's degree from the University of the Incarnate Word with an emphasis in business marketing and construction management. Before becoming a licensed REALTOR' she worked in sales, education and marketing.
Her outgoing personality and entrepreneurial drive led her to create a marketing company working exclusively with Phyllis Browning Company agents. Velma's clientele quickly expanded by referral with local businesses and non-profit organizations. Shortly after, Velma relocated to Dallas with her husband's corporate employer, then transitioned back to San Antonio. The experience of unfamiliarity sharpened her abilities to adapt and embrace new opportunities. Her strong work ethic, integrity and dedication to excellence benefits each of her clients.
Velma finds happiness supporting philanthropic causes close to her heart. In 2018 she served as the event chair for the San Antonio Cancer Council(SACC) Annual Spring Luncheon fundraiser. Outside of real estate she enjoys a good laugh and surrounds herself with good energy. -Sep 7 2023 11:00AM
Office Location
6061 Broadway
San Antonio, TX 78209
Specifications
Languages: Spanish
Specialties: REALTOR®
Service Area: Alamo Heights, Olmos Park, San Antonio, Terrell Hills, Texas
Velma's Testimonials
Mrs. Velma Perales was very professional .... she was very helpful in finding us the house that we were looking for in the Alamo Heights subdivision. She understood our needs in the type of house we were looking for. She was with us thru the whole process from the beginning and thru the end. I would recommend her to anyone looking for any type of property.
Adolfo Alejandro
The housing market and home search is going through turbulent times. Nonetheless, Velma was phenomenal with ensuring we were successful despite the challenging times. She was steadfast and prompt with her delivery and assisted us through every step in the process and up to closing. She is a perfect example of what a realtor should emulate with regard to her professionalism, passion, and knowledge of the industry.
Jonathan Alejandro
It was by chance that I connected with Velma Perales and it related to a rental property. She listened to me when I spoke about being a first time home buyer and my plans for making that happen. Before you knew it, I was on my journey to purchasing a home. Velma was patient, enthusiastic, knowledgeable, and always so flexible to my needs and so helpful! I closed on my house on June 4th and I honestly couldn't have done it without her. She was with me every step of the way. I strongly recommend [...]
Sandra Boone
Velma was more than a realtor for us. She was our advocate! We never could have bought a home without her, and we couldn't recommend her enough for other potential homebuyers and renters. Thank you, Velma!
Chase and Alyssa Correll
It was an absolute pleasure working with Mrs. Velma Perales, during these last several months! Her professionalism, expertise, hard working ethic, and patience provided us with much support and encouragement as we searched for our forever home. We returned to San Antonio after 20 years of military service, and are beyond grateful to have had her by our side. Throughout our journey we were faced with many trials and tribulations and Velma's gracious spirit helped us to excel in many ways we [...]
Jacob and Tabitha Nieto
Contact
Hi there! How can we help you?
Contact us using the form below or give us a call.
Hi there! How can we help you?
Contact us using the form below or give us a call.